Three Things to Consider When Selecting Your Kitchen Countertops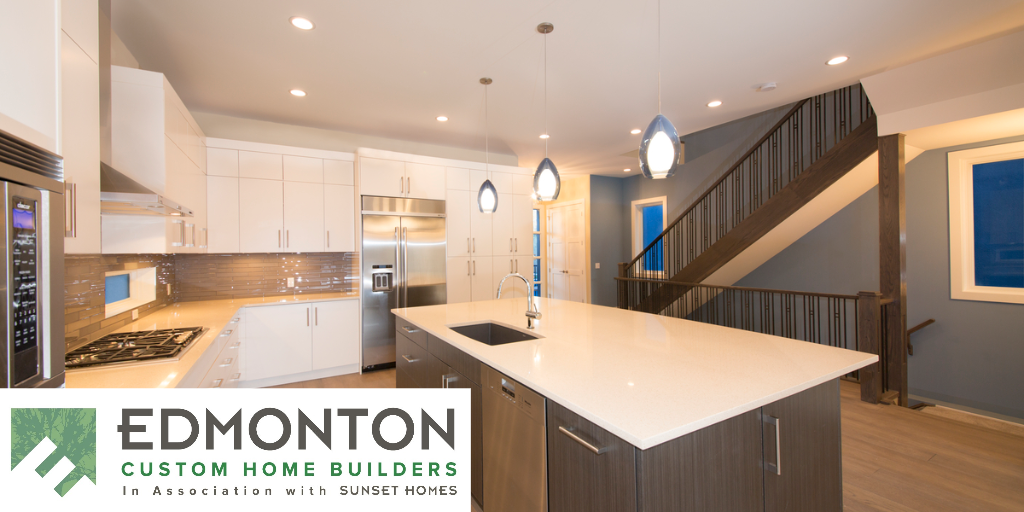 Three Things to Consider When Selecting Your Kitchen Countertops
The beauty of customization is selecting all the materials that will eventually make up your dream home. As professional Edmonton custom home builders, we know that one of the most important rooms in any home is the kitchen. This space is no longer only used for cooking but for a variety of activities that include eating, entertaining, and sometimes even working.
That is why the selection process for all materials that will compose your kitchen is essential. Probably the most challenging decision faced by homeowners, in this case, is the countertop material as it needs to be durable, functional and stylish. When looking for the perfect countertop finish for your new luxury custom home, first make sure you ask your chosen Edmonton home builder to present you several material samples such as ceramic, stone, concrete, laminate, and wood so you can compare them.
In our experience, the trend among homeowners is to go for the great benefits of natural stones such as granite and solid surfaces like quartz. If you are currently looking for the perfect countertop for the kitchen of your new home in Edmonton, we suggest you consider these three important things before making any final decision between these two options.
Important to Consider When Selecting Countertops for your Edmonton Custom Home
Granite and quartz are both great countertop materials for any luxury custom home. When selecting the right countertop for your dream home, it is vital that you consider both looks and textures. Take into account that countertops are surfaces that are used every day, sometimes several times a day, so you need to be satisfied with the way they look and feel.
Granite has the advantage of having little or no seams at all which makes it look stylish and chic. Another plus is that it comes in a variety of colours and each countertop is a unique piece of natural stone. Quartz also has a mesmerizing surface and texture that you can polish for a shinier look or leave matte for a more conservative style.
Quality and Durability
Sure that countertops must be beautiful, but that is not all there is. A great countertop needs to be durable and resistant to daily use. Remember that a kitchen is a place where spills are usual, and you don't want to end with a stained countertop in your just-finished luxury custom home.
Ask your Edmonton home builder to give you samples of granite and quartz that you can take home actually to test them for stains and scratches. On the one hand, granite is an excellent option because it is resistant to scratches, heat, and germs. On the other hand, quartz combines the benefits of natural stone and man-made materials to provide a long-lasting material that will not age with use.
Cost vs Value for your Edmonton Custom Home
As experienced Edmonton custom home builders, we know that one of the most critical factors of any project is budget. When it comes to kitchen countertops, it is also essential that you define how much are you willing to invest.
Usually, quartz is a less expensive option when compared with granite. But it is equally important to mention that the price of granite is completely variable depending on factors such as colour, finish, and place of origin. When comparing countertop materials costs, we suggest you also make your final selection based on the option that adds more value to your home and quality of life.
Too Long Didn't Read (TLDR)
When selecting the perfect kitchen countertop material for your dream home, it is essential that you take into account look, texture, durability, and cost.